Not needing to go too far back, I had been taking some form of narcotics for the last 10 years. The 15 years prior to that, I generally took narcotics only on occasion and mostly for recreational purposes. I don't believe during those years, I was dependent on the narcotics beyond my desire to "catch a buzz" or whatever. But, in 1988, I became a Christian and pretty much quit drinking, smoking and doing any kind of drugs whatsoever. Praise God He gave me the strength to be successful, as I would end up being diagnosed with Leukemia a few short years later.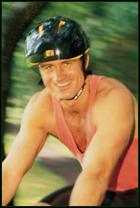 The type of Leukemia I had was AML (Acute Mylogenic Leukemia.) Without going into great detail of the actual treatment, I ultimately underwent extensive chemotherapy and finally the bone marrow transplant. I give the Lord all the credit for my survival and for providing me with wonderful doctors and caregivers. This disease was undoubtedly the most difficult challenge of my life. I had so much to live for with two wonderful daughters, 6 and 11 years old, and a beautiful and faithful wife of over twenty years at that time. Fighting and surviving leukemia would turn out to be a journey that I would wish on no one, and yet, one that I am thankful for having taken. Throughout my treatment, there were many opportunities to share the Lord with others and to build and improve my relationship with God. For that I am truly blessed.
In 1994 I moved my family to Fred Hutch Research Institute in Seattle Washington in preparation for my BMT (Bone Marrow Transplant) which required full body radiation on top of chemotherapy. All in all, I was in the hospital for over twenty weeks receiving my new bone marrow as the hope for saving my life. Although my bone marrow transplant was very long and difficult it was also successful. But, because of having an unrelated BMT donor, I ended getting GVHD (Graph vs. Host Disease) and having to take, for an extended period of time, high doses of the wonderful steroid called Prednisone. This drug helped to save my life but in the process, it destroyed both of my hips, and severely damaged one of my shoulder joints. Within a year or so of my transplant, I had one hip replaced in January and the other in July of that same year. During the two years prior to my hip replacements, had it not been for various pain medicines, I would have been in a wheelchair because of the excruciating pain I was going through.
I admit, that I have always liked the way narcotics made me feel, but during my leukemia and hip replacements, I actually had a legitimate reason for taking them. After bi-lateral hip replacement surgery, getting prescriptions for narcotics was not much of a problem, especially with my medical history. I of course, started sampling various pain meds such as Oxycodone, Dilaudid®, Morphine, Ultram®, and Demerol®; finally settling on Norco® 10's. For me, the Norco was a perfect fit to not only help me deal with chronic pain, but they also made me feel better mentally. I have to say that many of my doctors, though willing to write me prescriptions, also gave me multiple warnings about becoming dependent on narcotics. Having had so much experience with surviving leukemia, I told them I was fine and able to discipline myself to using only the prescribed amounts, and for a few years that was true. However, with me it's always been, if a little is good, more is better. Consequently, over the last five years, I started increasing the amount of Norco in order to get the same effects as when I first began. In the end, I was taking as much as 20 to 30 Norco 10's per day. Obviously, I had to source them through other means than legitimate prescriptions.
Four weeks ago, by the Grace of God, I happen to hear on the radio, about a website that said that they help people deal with narcotic dependency. As it turns out, the information at NAABT.ORG website changed my life. I knew that I had a serious problem of dependency as I had tried to quit on several occasions over the last few years with no success. Every time I tried to cut back on the Norco, I became so severely ill that I knew that there was no hope for me. I once tried to quit "cold turkey" and became so sick that I though I was going to die. I knew that I could never quit on my own. I had admitted to my wife a year earlier that I had a narcotic dependency problem and I began counseling to deal with some of the underlying reasons for my drug problem. However, I did not let her know the seriousness of my problem and ended up telling her that I had quit when in fact I had not. Now I was really in trouble in that I could not take time off from work for treatment nor could I continue to take such large quantities of the Norco because it was, and had for years, been effecting my relationships with my family as well as others.
Overall, I lived a very successful life externally, but internally I was a mess. I nearly destroyed my marriage, severely damaged my relationship with my daughters, and was continuing to have to lie in order to obtain the narcotics that my body absolutely needed to feel normal; that is, without severe pain. Finding this website and reading about Buprenophine/Suboxone® treatment was the beginning of seeing hope for myself. I immediately began to read all of the educational information and literally every post that others had entered on the website "Discussion Board." I had a difficult time believing what I was reading. It was so encouraging reading of the success of so many people dealing with the same problem that I had. It was also great in understanding about narcotic addiction and dependency and realizing how many others there are who need treatment. But because of the stereotype and biases of many people, it is difficult to even find out, much less locate a facility that deals with Buprenophine/Suboxone treatment. For the size of the city I live in, there are only a few doctors willing to treat narcotic dependency with this medication.
Within two days, I had located a health facility that offered the Suboxone Treatment. I scheduled an appointment for the next day although I was scared about making the commitment so quickly. That was the beginning of 2006; although my doctor is a no-nonsense type of person, he is also one who is knowledgeable and very interested in helping people break their narcotic dependency; especially those who are genuinely interested in getting off from the narcotics. I can say that I have not had one craving or desire to take any narcotics since I started taking the Suboxone. The withdrawal symptoms are non-existent with the exception of a little nausea. I am currently in counseling and taking it one day at a time. Because I have not suffered any withdrawals up to this point, I am very optimist that I will continue to do well. I am looking forward to eventually tapering off from the Suboxone over the next several months. However, absolutely no pressure has been placed on me for any timeline to taper. As of today, I am taking one 8mg tab in the AM and One 8 mg tab in the early evening. This dosage seems to be working extremely well at this point. I have good energy and lots of optimism as I face each day without spending all my time thinking about my next dose of pills. As for anyone who finds him or herself in the situation of narcotic dependency, I would give them this advice. Just go for it! Educate yourself, read other success stories, confide in someone close about your treatment and progress, and believe that you can have a life beyond the opaque color of a prescription bottle.
In conclusion, I have to say that this is the first time in many years that I am hopeful of being drug free. I believe by my experience so far, that through counseling and gradual tapering of the Suboxone, I will finally be free of the narcotics forever. The posts and support of so many people on the NAABT.ORG website has been fantastic. Nothing better than one who has "been there, done that" to help encourage others to get help and see hope beyond their circumstances. I for one, thank God for this miraculous medication and its ability to restore lives that only a few years ago, would have been forever lost.
Thanks everyone,
Bill