NAABT.org Nationwide Patient Physician Matching System (PPMS) 4,880 patients matched to
buprenorphine-prescribing physicians in the first year.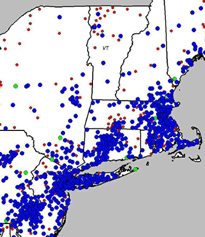 Blue dots represent contacted patients.
The online system is a non-intimidating 24/7 anonymous way for patients seeking buprenorphine treatment to connect with an appropriate certified physician in their area who has an opening, matches the patient's needs, and ability to pay for treatment.
From 9/1/2006-9/1/2007 7,225 patients had registered. 4,880 (66%) have been offered treatment by at least one of the 1,308 participating physicians.
Presumably the 4,880 are patients who were unable to find treatment through other means and might not have found treatment at all if not for the free online service.
Long waiting lists existed prior to the launch of the System. Now, some patients in metropolitan areas are contacted within minutes of submitting their anonymous registration, and most others within days.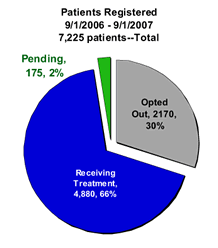 Click on graph for more information.
Unfortunately, there are still a few areas, such as Vermont and Spokane, WA, where patients have waited for months without contact from a physician.
Physicians reluctant to be listed publicly on the SAMHSA list, can still use the system to contact patients that best fit their practice and expertise.
Counselors/advocates/help-lines/social workers can submit a registration on behalf of patients without computer access, and simply inform the patient with the good news when a physician with capacity to treat them replies.
7,225 patients registered seeking a certified physician that matched their needs.
175 patients were still pending on 9/1/2007 and 2,170 had opted out of the program. Of the opt outs, 1,315 were contacted by at least one physician.
Try the Demo Version to see how it works.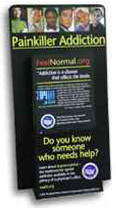 "The challenge remains to make patients aware of this free service. The system, even with only its current participating physicians, could connect 10,000 patients in 2008. Help is here, and in most parts of the country there is no longer a waiting list. We just need to get this news to the patients." said Timothy Lepak, President, NAABT, Inc.
You Can Help!
Please help spread the word about the Matching System. We've created counter displays that explain what buprenorphine is and how to find a doctor. Pharmacies have been very successful with this display, and they are available free to anyone with a place to display it. To get a free counter display, email us at MakeContact@naabt.org
If you have a website please consider adding one of our banners. It is a direct link to the matching system and can be a convenience or even a lifesaver for your visitors. This page explains how to add it: http://www.naabt.org/ppms_banners.cfm

For more information: