New features added to the Patient/Physician Matching System (PPMS). Based on your feedback, we have improved the physician interface of the NAABT Matching System making it easier, while adding more features. The new version released this week, displays all of the patient information on one page, including the statement to the physician – where insurance company information can be listed (in previous versions you had to click on the patient ID# to see this data). Other new features include:
How far away the patient is from each practice location
How many other physicians have already contacted that patient
How many patients are in range of each practice location
See this 2 minute, 20 second interactive demo to view the changes
Summary of changes (PDF)
Physician resources
Patient Physician Matching System
How to change your SAMHSA locator listing
PCSS Mentor clinical guidelines
The much anticipated 14-part HBO series "Addiction" premieres this Thursday, March 15 through Sunday, March 18. The centerpiece 90-minute documentary airs Thursday at 9:00 p.m., the corresponding films will air on HBO, HBO2 and HBOSignature through March 30; through April 16 on HBO On Demand. Check your local cable operator for information on free HBO preview availability in your area. Click here for the schedule.
Before and after the HBO program, there will be discussion about the show on the NAABT discussion board. All are welcome to participate.
The main documentary piece focuses on addiction being a treatable disease. It is divided into nine different segments covering opioid addiction and treatment, alcohol dependence, methamphetamine, cocaine, craving stimuli, PET scans and more. It looks at the science of addiction, what is involved in the mechanisms of the brain, both physiological and psychologically breaking myths that addiction is nothing more than bad judgement. Also by having a diverse group of individuals in this film, it helps to break the

stigma and stereotype of addiction. HBO has also launched a comprehensive, website.
A coalition of advocacy organizations have teamed up to make this an event. See AddictionAction.org for more information.
Physician Clinical Support System (PCSS)
by Jennifer Brownell, ASAM
The PCSS has been funded by the Substance Abuse and Mental Health Services Administration (SAMHSA) since September, 2004. The PCSS is designed to assist practicing physicians, in accordance with the Drug Addiction Treatment Act of 2000, to incorporate into their practices the treatment of prescription opioid and heroin dependent patients using buprenorphine. The American Society of Addiction Medicine (ASAM), in consortium with other specialty addiction medicine, psychiatric, pain and general medicine societies, created the PCSS to assist physicians in the appropriate use
of buprenorphine.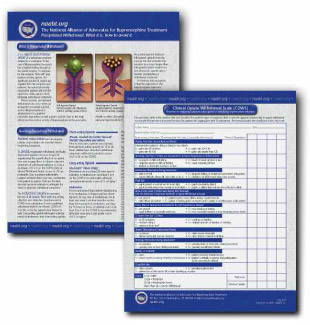 New Literature from NAABT:
A piece on precipitated withdrawal is now available. This sheet is designed to be used for patient education at induction. One side has an in depth description of PW and how to avoid it the other side has the COWS. Laminated sheets for dry ink marking are available by request. Plain printed sheets are also available or you can download and print a copy by visiting our Buprenorphine Literature Page.
NAABT Friends & Family Discussion Community
We are pleased to announce the opening of a new forum for Friends and Family of those with the disease of opioid addiction. This discussion community is for loved ones to ask questions, find answers, support and hope through each other.
Patient/Physician Matching System and 100-Patient Limit
No waiting lists in some major cities. The 30/100 increase has
appeared to have an effect on how fast patients receive treatment in some cities. In NYC, Philadelphia, Baltimore, Seattle, Los Angeles, Dallas, and Miami, for example, patients who register on the patient physician matching system are often contacted by more than one physician within hours of submitting their
registration. Unfortunately, in some rural areas, especially Vermont, patients are still struggling to find a certified physician to treat them. Still, nationwide, 65% of patients who register are connected with a physician. That number exceeds 90% in the larger cities and many other areas. Patient Registration

We need your help. Although the NAABT Patient/Physician Matching System has helped match over 2,200 patients to certified providers, it has the capacity to match several times that amount. Currently there are over 960 participating physicians. We need to make more patients aware of this resource. You can help by directing patients to this resource, or if you have a website, adding the shortcut banner as a convenience to your visitors: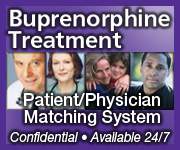 Learn how to add this banner
or other designs to your website.
The Physician Locator (Doctor/Patient button) sorts physicians by distance in geographic proximity, regardless of city,
town, county, or state borders. Click here to try it for yourself.


February, 2007, newsletter article:
Buprenorphine's Effect on Depression
by Dr. Richard Gracer.
We want to note that the FDA has approved buprenorphine (Subutex®) and buprenorphine/naloxone (Suboxone®) to treat opioid dependence. However, neither Suboxone nor Subutex have been approved by the FDA for the treatment of depression or pain. Thus any use of Suboxone and Subutex for pain or depression is considered an offlabel, unapproved use of these medications. The study* Dr. Gracer refers to was conducted in 1995, before the development of Suboxone and FDA approval of both Suboxone and Subutex. Currently, there is no buprenorphine product approved for the treatment of depression.
The purpose of the article was an academic exercise and to help some patients understand why they feel the way they do.
*Journal of Clinical Psychopharmacology.
15(1):49-57, February 1995.
Bodkin, J. Alexander MD; Zornberg, Gwen L. MD; Lukas, Scott E. PhD; Cole, Jonathan O. MD
Disclosure:NAABT, Inc. has accepted funding from Reckitt Benckiser (Richmond, VA, pharmaceutical company that manufactures buprenorphine products) in the form of an "Unrestricted Educational Grant." The grant is "unrestricted" so that there are no "strings" attached. NAABT, Inc. has complete control over how the funds are used, there are no restrictions on the content or mission of this site, and Reckitt has no control over the content of the site or NAABT's activities. Reckitt is currently the only FDA approved maker of a buprenorphinebased product for addiction. NAABT, Inc. is not affiliated with Reckitt Benckiser. Click here to learn more about NAABT.
Click here to learn more about NAABT.