Behavioral therapy has been shown to be an essential component of addiction treatment. Unfortunately, patients sometimes have trouble finding a counselor or therapist familiar with evidence-based addiction treatments including medications.
To help connect patients seeking behavioral therapy with counselors and therapists familiar with modern treatments, we are compiling an online locator.

We invite counselors with modern evidencebased philosophies to register for our locator that will be shared with other advocacy organizations nationwide. There is no cost to register and listings can be edited or removed by the counselor at any time.

To help with nationwide counselor awareness of this new and exciting locator, we have an upcoming inside back cover ad in the September/October issue of Counselor Magazine.

The Physician Locator (Patient/ Doctor Connection Button)
has been improved. It has evolved into an all encompassing buprenorphine resource, and all on one page. It now includes:
Closest DATA-2000 certified physicians


Closest counselors/therapists (of an evidence-based philosophy)


Closest buprenorphine-stocking pharmacies


Closest treatment facilities that utilize buprenorphine


Local resources such as Studies, peer support, financial assistance, state health departments, etc.
The printer friendly links allow for easy printing to take with you or give to a friend or patient. http://www.naabt.org/local/

AlcoholAnswers.org
Coinciding with National Recovery Month, we at NAABT, Inc. are pleased to announce the addition of AlcoholAnswers.org to our family.
AlcoholAnswers.org is an Evidence-based educational website for those seeking information on Alcohol Dependence (Alcoholism) and a sense of community through our Discussion Forums. There are sections for both Friends & Families and the Alcohol Dependent person with informational topics including, but not limited to, Evidencebased Treatment Modalities, Medication-Assisted Treatment (MAT), Co-dependency, Enabling, Health Issues and a Resource section that has a comprehensive glossary, links to Peer Support Organizations, State Drug & Alcohol Site, various Research Information and Downloads on topics of interest. AlcoholAnswers.org also has a MySpace space.
NAABT Patient Awareness/Outreach Program Updates.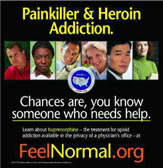 The success of our second Awareness/ Outreach Program on the public transportation systems in Baltimore (bus, light rail, Metro, MARC), Detroit (bus), Miami (bus and metrorail), Seattle/Tacoma (bus) and throughout the State of New Jersey (light rail and bus lines) was a huge success.
To celebrate National Recovery Month, we will be seen on the public transportation systems in Detroit (PeopleMover), Pittsburgh, Tampa, and again in Seattle and Philadelphia.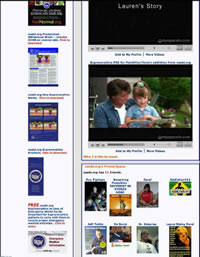 The naabt.org MySpace page has proven to be a good source of referrals to both naabt.org and the Patient/Physician Matching System. To see what it's all about, please visit us at: myspace.com/naabt
We hope that through these efforts more people become aware of the buprenorphine treatment option, become educated and make an informed decision as to if this is right for them.

Patients and Prescribing Physicians. Patients and prescribing physicians can now order a free "in case of emergency" wallet card that alerts healthcare workers that buprenorphine can affect opioid pain medication.
The card also lists a link to this web page: www.naabt.org/emergency with important relevant links useful if opioid pain treatment becomes necessary. Simply email us an address to send the card to at MakeContact@naabt.org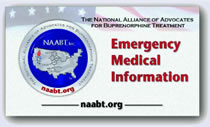 September is National Recovery Month To find out what events are going on in your state, visit Faces and Voices of Recovery.
To date 32 states will be holding rallies or walks on September 15. The 'hub' event is at Liberty Park in New Jersey. Hosted by Friends of Addiction Recovery – New Jersey their hope is that "this year's rally will build support to end discrimination, especially in health insurance coverage, experienced by individuals in recovery from addiction." Click here for more information.

Billing codes. A list of common billing codes are available for download and printing from the Patient/Physician Matching system physician login page, or you can go to:
http://www.naabt.org/documents/
coding.pdf
SAMHSA Locator. If you are a certified physician please be sure your information is correct on the locator. Please check for spelling and correct phone number. If you know of a colleague who is on the list but should not be due to no longer practicing, please advise.
Please note: If you have multiple practice locations, you can now add them. 1-866-287-2728
info@buprenorphine.samhsa.gov
Voluntary Disclosure: Some of the funding for this organization is provided by anonymous donors whose lives were touched by evidence-based addiction treatment and were willing to help support our mission. NAABT, Inc. has also accepted funding from pharmaceutical companies in the form of "Unrestricted Educational Grants." The grants are "unrestricted" so that there are no "strings" attached. NAABT, Inc. has complete control over how the funds are used, there are no restrictions on the content or mission of this site, and donors have no control over the content of the site or NAABT's activities. NAABT, Inc. is solely responsible for all of its activities.
Click here to learn more about NAABT.