Whether you work at a methadone clinic, are a counselor, therapist, physician, advocate or a friend or family member of an addicted individual, you may at times have the need to help place a patient with a DATA-2000 certified physician who can prescribe buprenorphine for opioid addiction.This can be time consuming and frustrating, since less than 2% of US physicians are certified, only 60% of them are on the SAMHSA public locator and only about half of them are actually accepting patients, never mind trying to find one who accepts a particular insurance or can treat a co-occurring condition.
The PPMS (Patient Physician Matching System) can help. There you can submit a request for treatment on behalf of a patient and participating area physicians are instantly alerted via email. You only receive responses from physicians willing to help. This reduces time wasted fielding rejections, being placed on waiting lists, and it reaches some physicians not on the public locator. Physicians respond at all times of the day or night even on weekends and holidays.
It's simple; you fill out the short questioner and use your email address. (for patients without an email address themselves) Each patient is assigned a PatientID number to ensure confidentiality. You will receive responses from doctors addressed to the Patient ID#. You can help select the most appropriate physician and call the patient with the good news. Over 18,000 patients have been contacted by at least one of the 2,300 participating physicians so far. We created a landing page especially for the matching system, see www.TreatmentMatch.org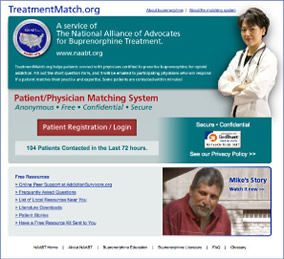 Registration Page
Matching System FAQ
More detailed information
In addition to the matching system and the locator list, you may be lucky enough to have ongoing buprenorphine studies in your area, where patients can get top-notch care for free see www.Clinicaltrials.gov
Some methadone clinics also offer buprenorphine, but cannot prescribe, instead they must adhere to the same rules created for methadone which requires most patients to make daily visits to get their medication, at least initially. A list of clinics who indicated that they offer buprenorphine treatment exists here, however it is plagued with the same inaccuracies as the physician list.
www.naabt.org/local (bottom of the page)
Some physicians still don't accept insurance for addiction treatment despite the fact that most insurers now reimburse at adequate rates. Patients with insurance can often submit claims themselves directly to their insurer. Cash payers should shop around because prices vary see: How do I know if I'm paying too much?