Patients:
Find a Buprenorphine Provider
TreatmentMatch.org
Have a certified buprenorphine
prescribing provider contact you:
Get Started
Providers:
Help Patients Now
TreatmentMatch.org
Find patients searching for
buprenorphine treatment near you:
Get Started
Download useful info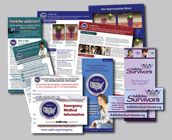 Mike's Story
The Purpose of Buprenorphine Treatment:
To suppress the debilitating symptoms of cravings and withdrawal, enabling the patient to engage in therapy, counseling and support, so they can implement positive long-term changes in their lives which develops into the new healthy patterns of behavior necessary to achieve sustained addiction remission. - explain -
The National Alliance of Advocates for Buprenorphine Treatment

is a

non-profit

organization charged with the mission to:
Educate the public about the disease of opioid addiction and the buprenorphine treatment option.
Help reduce the stigma and discrimination associated with patients with addiction disorders.
Serve as a conduit connecting patients in need of treatment to buprenorphine treatment providers.